Yesterday I transgraded (I know, I know it's a strange term
) my wife's aging Thinkpad X200T work laptop from Ubuntu to Elive.
This wasn't because I so badly wanted to but because Ubuntu was having serious speed issues compared to my Elive machines. So I happily complied to the request.

Transgrading itself was a pain-free experience with all the right questions asked and all the needed warnings.
Once installed I went about to change the looks a bit to be a bit more compliant to the Unity desktop she'd been using for the last few years so as not to have too much of a shock.
Here's the result: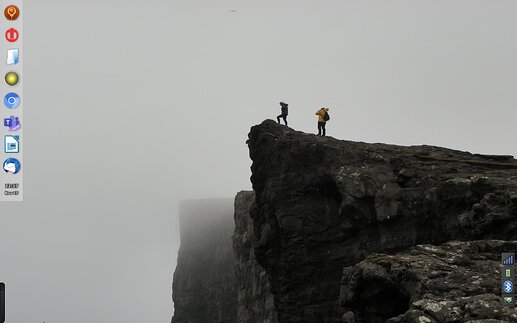 The background is a pic from our trip to the Faroe Islands a few years ago
Like I said, the transgrade itself was pain-free but there were some minor issues:
Ubuntu uses Firefox whereas Elive uses Firefox-esr, meaning that it wouldn't simply startup as before but created a new profile. The simplest solution was to import all the settings from the previous instance and use "chromium" instead.
Rofi as an application starter will not run because it cannot find "libxcb-util.so.1" which isn't an issue on any of my other Elive instalments, so I suspect there's an unclear Ubuntu heritage there.
So I added "kupfer" up top in place of it. Not as nice but usable for now.
Thunderbird threw an issue because there was still an old unused ~/.icedove/ directory around so I had to rename (and later remove) that one. Which actually makes me wonder how many times I've already trans/cross/up-graded said laptop.
Due to my dislike of "cairo-dock" I installed "plank" and thus also needed to install a battery-monitor .... for which I used "fdpowermon", as shows in the systray bottom-right.
All in all, not bad but does still feel a bit unreliable (just a feeling, no proof) compared to a straight Elive install.
A nice new lease of life for that excellent piece of hardware, even the wacom pen and screen worked OOTB.

Addendum
I moved the pager from bottom left, where it got blocked by "plank" sometimes, to the top right ..... where I think the Elive pager should be in all cases ..... as a trademark.