How can I create from Windows 8.164bit in USB in persistent mode boot able?
When you boot with your USB stick, choose the 2nd option to boot with Persistence. You will be offered to create the persistence mode once in Elive
or
Once in Elive, Application menenu, Elive, Persistence mode.
I will assume you already created the USB stick
note that you'll find Elive faster if not in persistence mode… As soon as your choose persistence mode, some USB stick, cheap, offer a fast Read Time but horrible "Write time" so the persistence mode will be influenced by the quality of your USB stick
Hello, I have not installing Elive in USB(Windows 8.164bit), because I don't know with what utility's :
Universal-USB-Installer-1.9.8.3?
unetbootin-windows-661?
rufus-3.1p?
LinuxLive USB Creator 2.9.4?
do you know?
thanks…
Try USB Writer or https://etcher.io
They are in the torrent we made available on Elive download page
"Etcher-Portable-1.4.4-x64" do not running also as administrator(all other running), do you know why? What is "Try USB Writer"?
USB Writer has not Persistent, is okay?
The persistent will be made once you are in ELive…There is some magic / Gadget in Elive to create persistence even if you didn't prepare the USB key in a special way.
Or wen you boot from the USB key, the 2nd option on the Boot Menu, also allow to create the persistence mode
you don't have to create the key a special way, as with other OS, for persistence mode
Etcher is working fine for me (Windows 10, 64-bit, elive-3.0.0, etcher 1.4.4 portable).
Select image - select drive - start (answer UAC request) … Waiting.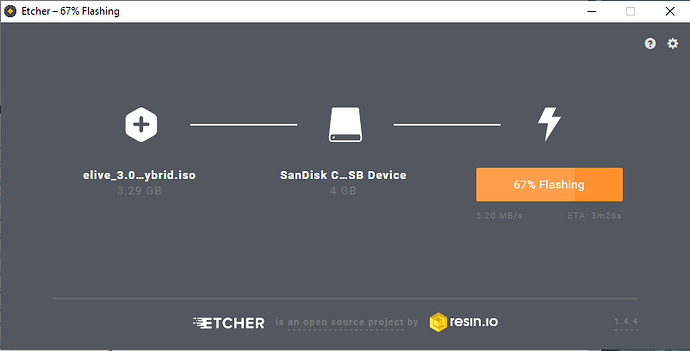 The contrast of the status (lighter orange on intensive orange) is a little low, to recognize it 'by the way'.
Same for the very little progress-text below And something like a 'view console output' would be nice. Since I've never got an error or abort, I can't say how the feedback is.
Later in the process, the contrast of the bar is better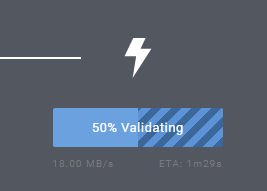 But it is very clear to see when it's done. a little self-ad is not bad, here, for a free tool.