On E24, I have the omni tool that show itself like an invisible window with the background in it.
I can see the window, but everything inside is invisible but the background.
An image is worth a thousand words :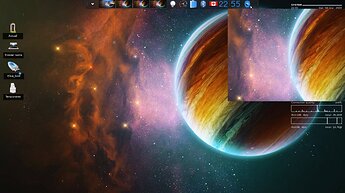 The omni is functional. If I type a valid command it will execute it. But if there is an error the message is invisible.
I have enlightenment 0.24.2+18+git9c116e6bb9-6buster18 installed. (and E16 too).
Here is some info on the box :
OS: Elive GNU/Linux (on Debian buster) x86_64
Host: HP Pavilion g6 Notebook PC 0593110000204610000620100
Kernel: 5.8.0-0.bpo.2-amd64
Uptime: 1 hour, 26 mins
Packages: 2533 (dpkg)
Shell: zsh 5.7.1
Resolution: 1366x768
WM: Enlightenment
Theme: Adwaita-dark [GTK2/3]
Icons: gnome [GTK2/3]
Terminal: terminology
CPU: AMD A6-3400M APU (4) @ 1.400GHz
GPU: AMD ATI Radeon HD 6520G
Memory: 961MiB / 5423MiB