Here's a strange command I came across that I didn't know was there.
"/usr/bin/x-window-manager"
I came across it, while looking for a way to have a bigger mouse cursor on my screen (note: this needs to be seen to for modern day 4k+ screens).
The command, on my machine opens an Enlightenment session inside E16.

Which by itself is nice considering it hardly uses any extra resources but .................. Here it comes:
It messes up all automatic font settings in E16. To get the right sizes back I need to restart X.
My question (ping @Thanatermesis ) is where this command comes from, suspecting it is Enlightenment specific.
It at least it has no man-page, apropos entry nor to be found by name in the repos but I did find this: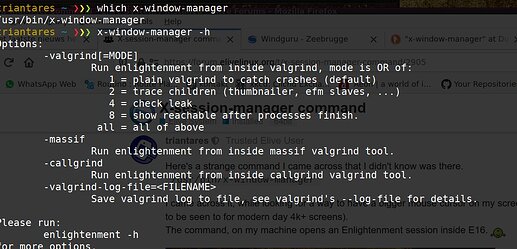 So I'll go about what I was doing again (this was a distraction if anything) and wait if anyone ever used this and what for.