I have had time to give it a go this morning.
I have modified the cairo-dock Adeskbar theme by:
removing the left dock
Added Elive Logo Icon for applications menu
Straightened the rounded corners of the applications menu to conform to the E16 menu
Set the text color to black (was grey)
The theme is here and can be imported into the current 3.7.8 in cairo-dock configuration panel or extracted to /usr/share/cairo-dock/themes/:
http://triantares.ddns.net/Elive/Elive-light-panel.tar.gz
A modified light GTK+ theme for E16 is also there:
http://triantares.ddns.net/Elive/Elive-GTK-light.zip
And should be extracted [sudo required] to /usr/share/e16/themes/
The Elive-GTK+ theme is built around the original GTK+ theme by James Cape.
Changes are:
Dialog buttons changed to aqua theme bubbles.
Made the menu background lighter to conform to the Cairo menu
Changed icons/arrows to sub menus to conform
Set desktop pager to borderless.
There are some points that could be changed by default, like:
Do we want the KILL_button on the left or right side?
The blue bar on the top bar. Keep or leave it? -- I personally like it.
The root desktop menu is a bit cramped compared to those in the sub menus because there are Icons there. Option: remove those icons or add icons to root menu?
What is really messy is that some apps (like archive manager) have their own (gnome) top bar ......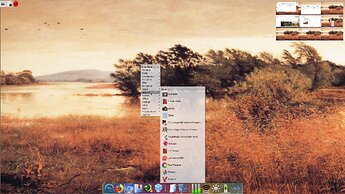 Above the E16 desktop menu, below the cairo appl. menu.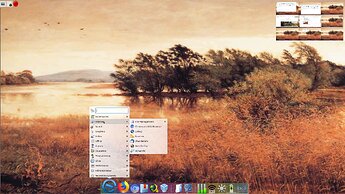 The shown background is a (stretched) painting by John Everett Millais.
On top, in case of a light theme and ditto background: Conky needs dark text !

Suggestion: Replace "file-roller" by "engrampa".