yes, this dialog happens before the desktop is started so its shown on the country's default language, just like the installation of nvidia drivers (which should happen before the desktop starts). This detected language is a better option for the majority of people than english (for example in latino country's, many people don't speak english, but all of them speak spanish)
if you want to change that, you have a Tip before to boot elive: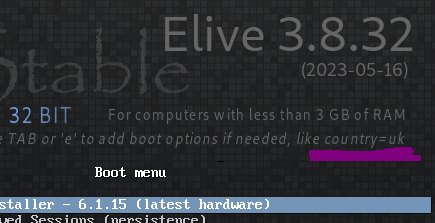 which option I just betatested and improving right now
it is, just tested, the variant is only asked if you SELECT a keyboard language, otherwise it uses the previously configured one without asking for the special variant because this is just like pressing "cancel" (you don't want to do anything, and so not configuring the variant of the keyboard because you don't want to configure the keyboard) - on the other hand plain english is always set to altgr by default now
there's two ways of using the installer:
everything partitioned manually on your own, this is made only by users who knows what is a /home partition, a root partition, etc, all of them knows what is a swap partition and what it is for, otherwise if the user don't know there's the option:
automated mode: it creates everything for you included the swap partition

optionally if the user don't wants automated which wipes everything, he can select the howto-partition-your-disk which is included the details for the swap
when you install elive, which browser you want to use is always asked and as option for the user, the live mode is a demo and ships with some defaults but if the user wants to install he selects exactly what he wants
@triantares I received a report from your install:
insserv: warning: current start runlevel(s) (empty) of script `ssh' overrides LSB defaults (2 3 4 5).
can you show me the result of this command in your installed system?
sudo systemctl status ssh.service