Doing this Again i.e bringing up the browsers for the umpteenth time.

Seeing how clhearly Mozilla has become a subsidiary entity of Google ...... How long can we keep pretending we're not affected by it?
The browser is the most important part of any OS (almost an OS in itself) making our life easier on the net. Which raises the question:
What browser should we want and what should Elive offer by default?
Personally I think we have only 2 options.
Build our own using Webkit
Use Tor.browser and flaunt that fact as a security (i.e ultimate user-friendly) choice.
I'd be quite interested to hear all your ideas and remarks on this issue.
BTW this post is done using Tor Browser (arm64) on the PineBookPro with Manjaro installed......so even there, it can be done as on 32 or 64 bit Intel muck.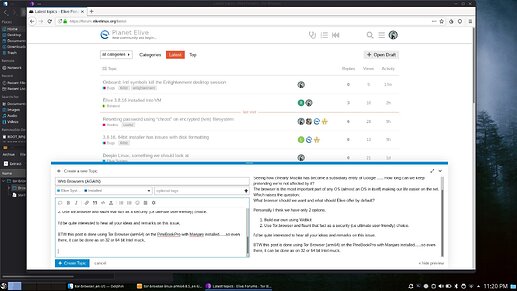 PineBookPro screenshot using TorBrowser