The laptop can run 20 hours on battery
Yeah, but is it still functional?
That would be great for binge watching "Mr robot" on a trans-atlantic flight.

or on the ferry to Iceland.
Yes i used my laptop all day watching youtube 99% of the time
@Thanatermesis:
Seems, the sensors for 'Intel state' were not recognized by Elive correctly;
I had a very similar issue on an earlier beta....
Ideas ?
I think you need to give me[us] some tips there ...but I would suggest a different/new thread for that.
This is getting very interesting.


20 hrs on 23.5 Wh is something I've never attained.
Ya, and then you could discuss about in.. Dutch LOL


Just to sucker you out .... yeah.
Except there's Dutch names all over the world.

@Nick_te_Lindert Could you elaborate on how you used "cpufreq-set" to have lower frequencies and maybe check if that indeed prolonged battery life on Elive too ?
Powersaving (as a user) is a facet that definitely needs more attention on Elive.


And it looks like you have a jump-start there.

Perfect thread


with the updated laptop-mode-tools, let's see how much hours can stay with elive

update: now also includes auto-adjusting brightness when turning on battery mode
hhmmm...I'm liking this thread. If we are interested in hooks that will distinguish Elive from other distros to reel people in, this could be a big one...battery life can have a huge impact on professionals...
update: auto brightness removed, is annoying to have it automatically reconfigured each time (no way to control "when" to change it)
Mmmh, I have played a bit with the last build and it works very good and as expected in those new Intel cup's (pstate)
But in Nettops (Intel Atom), the cpu frecuencies seems like to be entirely ignored, they goes up and down depending of the execution processes but I'm unable to configure them (tell them a specific frecuency or min value)
If anybody is able to configure these ones, please tell me

Isn't that precisely how p_state should work?
most of cpu's in fact, thats how cpufreq is meant to manage them, among other governors like ondemand, powersaving, etc...
but the problem is that it doesn't looks like i can configure them

(yes, for p_state ones it works good now)
If I'm right in 3.0 stables I'm able to fix CPU frequency at 600 MHz from E17 battery icon, it lets me several options as automatic, and max / min frequencies, in my Intel Atom....
But I doesn't know how system do it, but I'm pretty sure that it does it.... I'll restart in 3.0.6 now to confirm it....
Writing now from an Intel Atom from 3.0.6 I confirm that in those release we can adjust CPU frequencey from E17 desktop icon as shown in those pictures: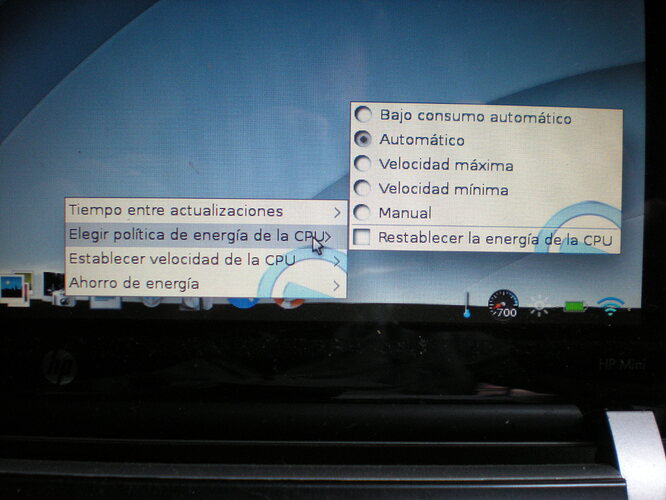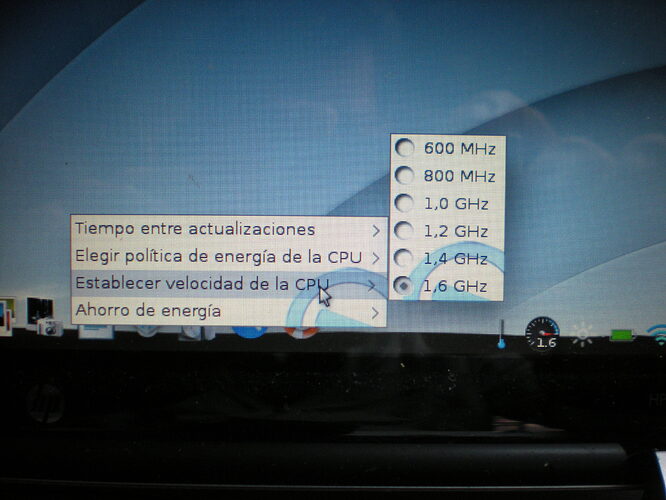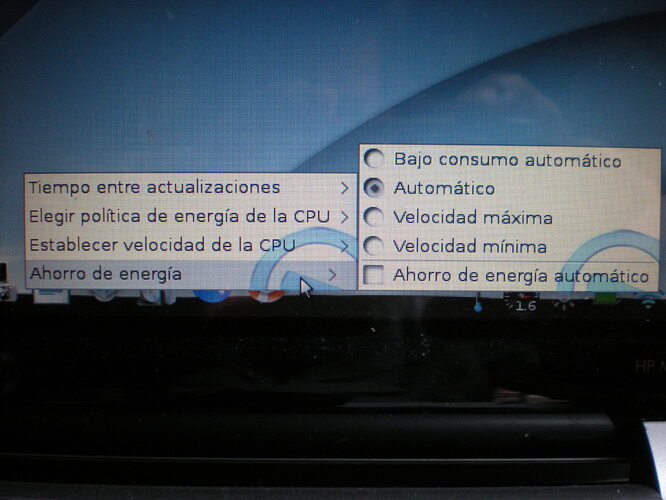 And yes, last time I installed 3.0.6 in my HP Mini I did it in Spanish


yeah it seems to work good on the stable versions, but the beta/alpha versions seems to ignore my settings (not from a widget but from commands)